I've heard such great things about this Juvia's Place Palette for a while now and wanted to try it out. I've been very curious to see if the shadows are as good as the swatches seem. When Ulta started carrying their products I thought it was the perfect time to go in store and swatch them. I've had this palette for a few weeks now and I've tested all the colors. Here are my thoughts!
I'm more of a neutral eyeshadow kind of girl, and I have so many neutral toned palettes already I didn't really need another one. So the colorful palettes were the only ones that really caught my eye. I thought, if I'm going to buy one of these palettes, I'm not doing neutrals. I don't usually do colorful eye looks, but the jewel toned shades looked so vibrant and beautiful, it made me want to get out of my comfort zone and be a little adventurous.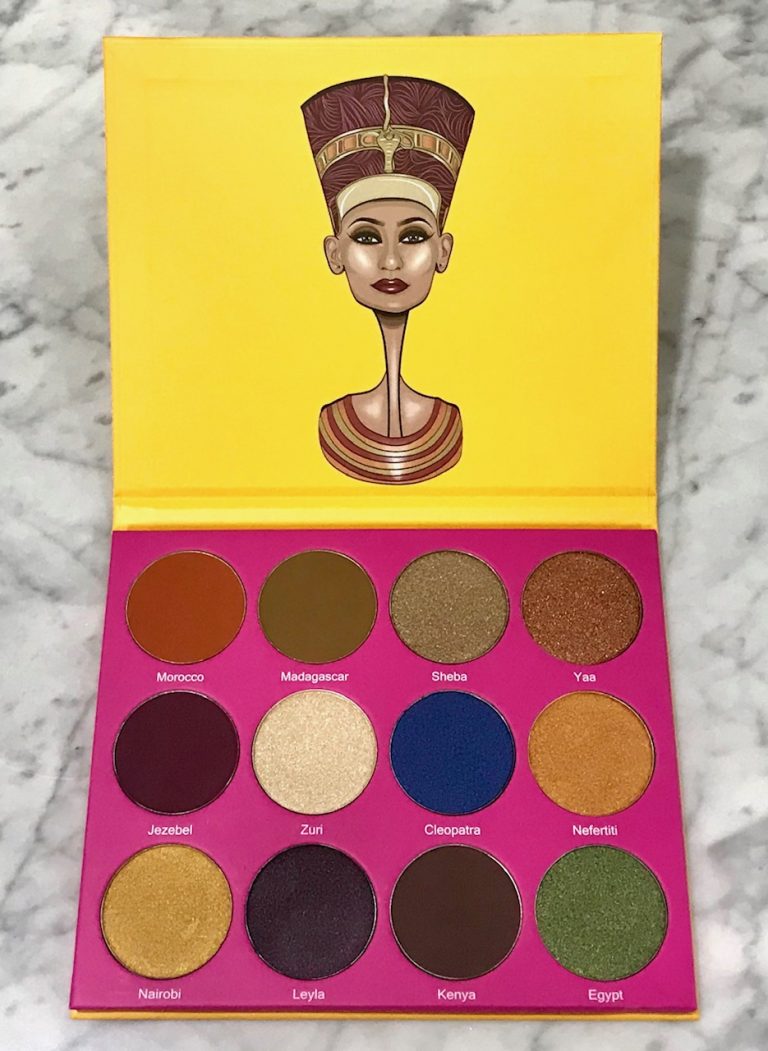 This palette comes in a bright mustard/orange cardboard box with a beautifully designed image on the front. The images on these palettes are stunning! From what I've seen, all of Juvia's Place palettes have a similar design consisting of a simple, colorful box with a beautiful image on the front. Inside the palette, the same image appears on the inside of the flap. Some people might be disappointed that there's no mirror inside, but this doesn't really bother me as I don't usually use the mirrors inside palettes anyway. The attention to detail is fantastic. This palette is mustard/orange and the inside of the palette itself, which holds the shadow pans, is hot pink, and is visible all around when the palette is closed, giving the palette a bright, contrasting pop of color.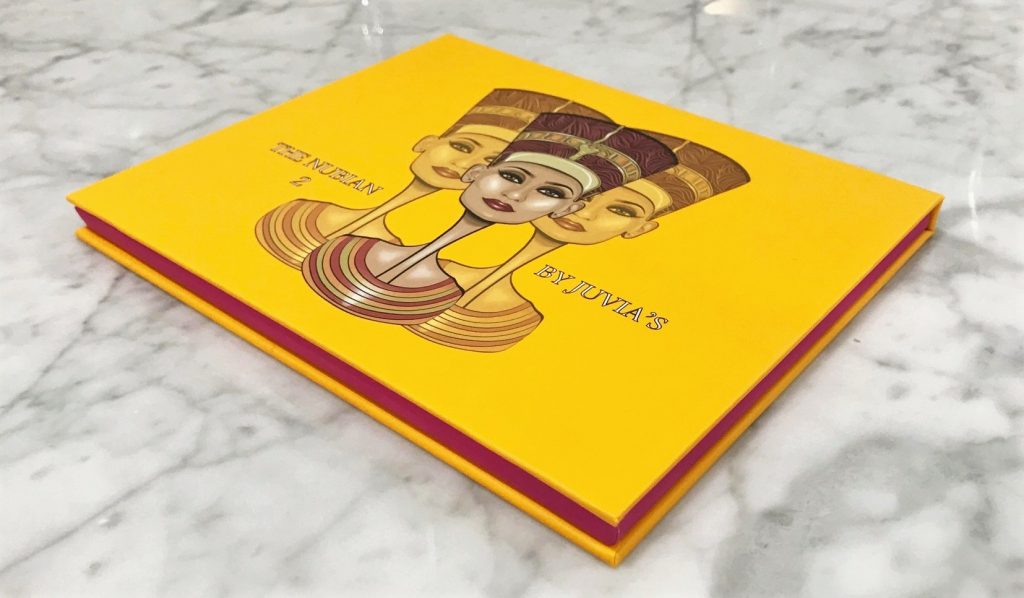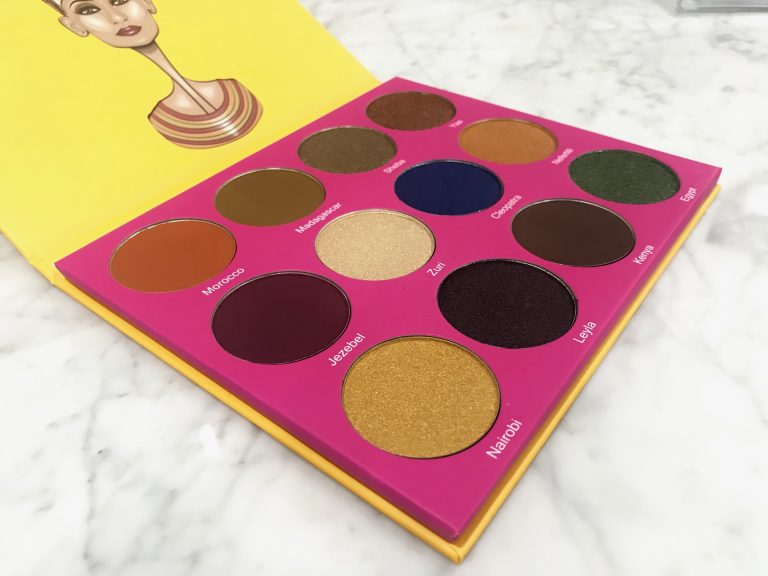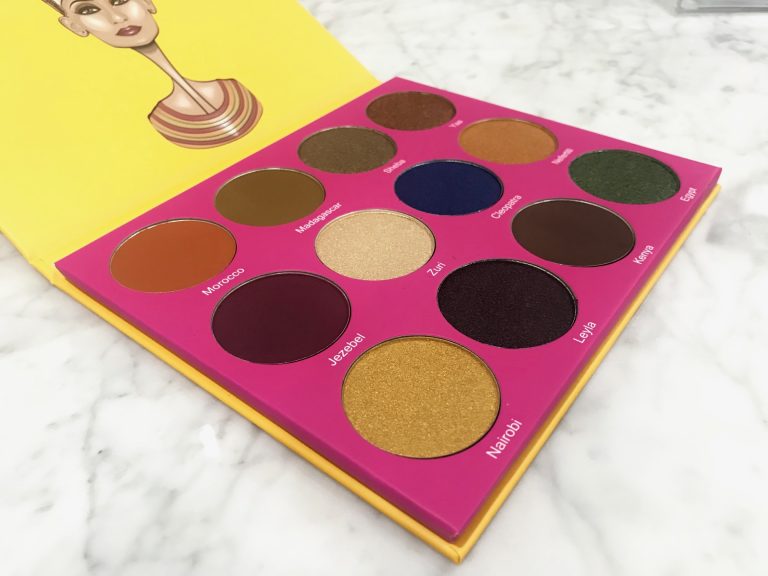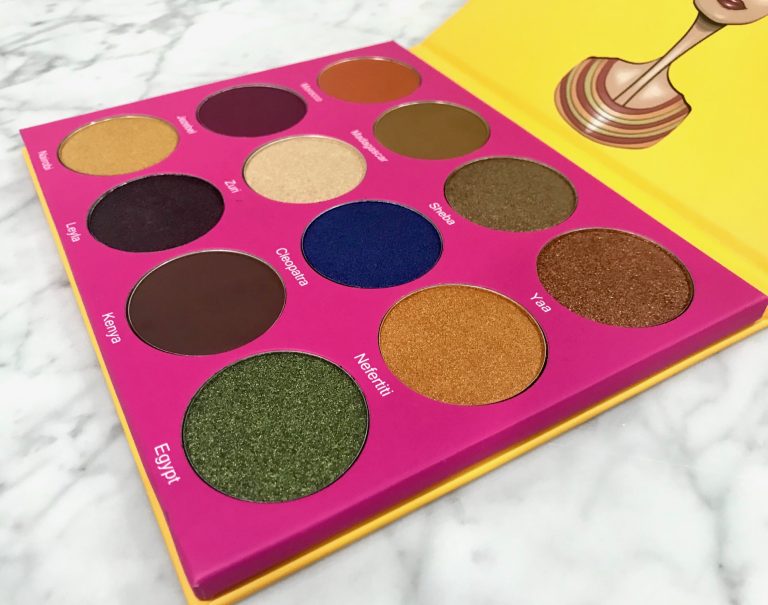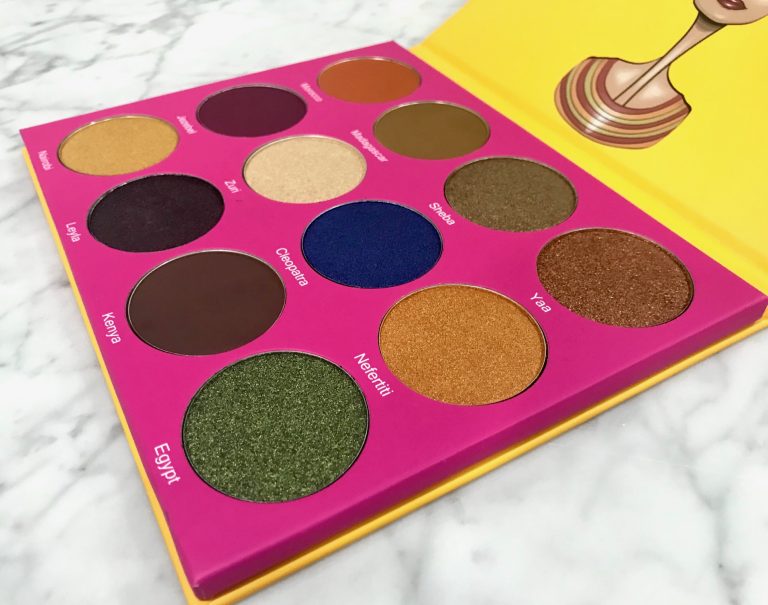 "The Juvia's Place Nubian II Eyeshadow Palette was inspired by Nefertiti, a beauty icon known for her outstanding beauty, strength and spirituality. This highly-pigmented selection of colors blends flawlessly on all skin types. The Nubian II palette features 4 matte colors and 8 metallic colors. Nubian II Eyeshadow pans are double the size of the original Nubian Palette. This is a paraben-free product.
Note: (Eyeshadows with shimmer and satin finishes can be applied wet or dry)."
Morocco (matte dark orange)
Madagascar (matte beige)
Sheba (metallic fawn)
Yaa (metallic auburn)
Jezebel (matte maroon)
Zuri (shimmer ivory)
Cleopatra (shimmer royal blue)
Nefertiti (shimmer 18k gold)
Nairobi (metallic yellow gold)
Leyla (shimmer royal eggplant)
Kenya (matte chocolate brown)
Egypt (metallic royal green)
The pigmentation on these shadows is great! The mattes can be built up quite easily and are opaque and rich in color. The only color that gave me a bit of trouble was Morrocco. I found it to be a bit on the dry side and it took some building up. The shimmers are fantastic. The blue shade, Cleopatra, is one of the most stunning blues I have tried. All of these shadows are true to color, blend well together, and don't get muddy. 
This palette is priced at $20.00 USD. It has 1.58 oz of product and each pan has .12 oz of product. (Just for comparison, the UD Naked 3 Palette pans are 0.05 oz each). You're getting a lot of product in this palette. 
If you haven't tried any Juvia's Place palettes, I would say they are definitely a must. The matte shades are rich and pigmented, and the shimmers are creamy and glittery, without the fallout.  With this palette you're getting quality AND quantity at a very affordable price. 
Have you tried any Juvia's Place palettes?  What are your opinions? Are there any others that I shouldn't miss out on?