I love mini makeup/beauty products! It's one of the reasons I always look forward to Sephora Favorites boxes. They also make great travel products and most of these live in my travel makeup bag. And if you happen to be a makeup artist, they're great for your makeup kit. In this box you're getting primers, eyeliners, mascaras, liquid lipsticks, a highlighter, a setting powder, lashes, and a setting spray. Almost everything you need for a full face. The only thing missing is a bronzer, and who doesn't have one or two or five of those lying around. Here's what you get: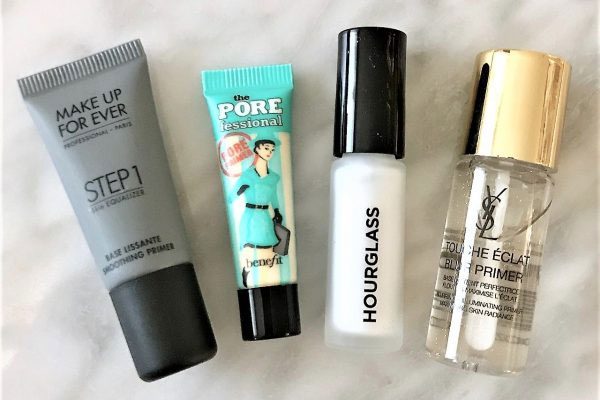 Make Up For Ever Step 1 Skin Equalizer Smoothing Primer – This primer makes my foundations go on smoothly and helps them last longer. It has the silicone-like feeling once dry. Very similar consistency to the Benefit POREfessional.
Benefit Cosmetics POREfessional Face Primer – This fills in pores and makes for a smoother foundation application. Like the MUFE Smoothing Primer it also has that silicone-like feeling to it. I don't wear this all over my face because it can make my skin look a bit dry. I usually just use it on the tops of my cheeks where my pores are most visible.
Hourglass Veil Mineral Primer – This leaves my skin feeling a bit tacky at first, but dries down to a silky feel. My foundation goes on very smooth and looks beautiful. One of the best high end primers I own.
Yves Saint Laurent Touche Eclat Blur Primer – This primer blurs EVERYTHING. As soon as I put it on I can see the difference in my pores. It leaves my skin smooth and silky. The only con for me was the floral scent. I just can't get past it and can still smell it even after applying my foundation.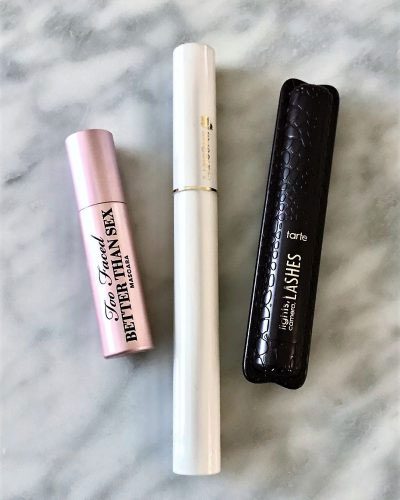 Tarte Lights, Camera, Lashes – This separates, lengthens, and volumizes, but not any more than my drugstore favorite. 
Too Faced Cosmetics Better Than Sex Mascara – This gives my lashes that soft whispy look, although I have to be careful since applying too much can make them look a bit clumpy. Unfortunately, this dries out quickly and starts flaking on me after several uses.  
Lancome Cils BoosterXL Super-Enhancing Mascara Base – Makes my lashes look so much longer! I just need one coat of mascara when I use this. I'm not really into mascara primers because it means another extra step in my routine. I feel like I can just use extra coats of mascara instead of a primer and I'll get the same effect, but this one makes a difference! While it doesn't give me much volume, I don't mind because what I need is length, and this give my lashes the length I'm after.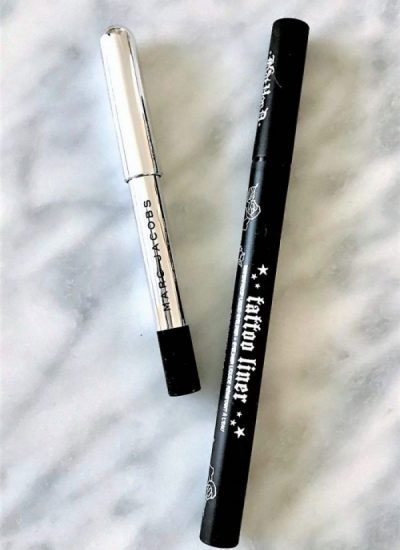 Marc Jacobs Beauty Highlighner Gel Eye Crayon in Blacquer – This eyeliner is black, matte, and creamy and once it sets, it's not going anywhere.  I can also smudge it within seconds of applying, and it gives a beautiful smokey look that lasts all day without fading. This has quickly become my everyday eyeliner and I've repurchased several times.  
Kat Von D Tattoo Liner in Trooper – This liquid liner with a brush tip makes it so easy to create a sharp wing.  It's black with a satin-like  finish. I like a matte black eyeliner so I draw my wing with this and top it off with a bit of the Marc Jacobs to make it matte. It doesn't smudge or fade and won't come off until you want it to.
Highlighter, Powder, and Setting Spray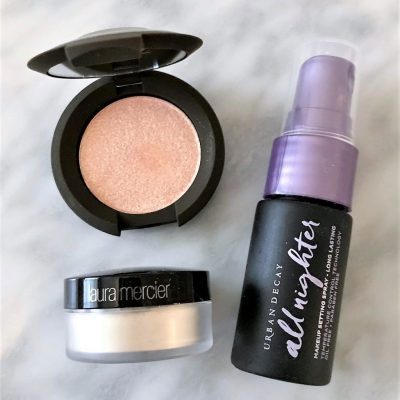 Sephora Collection Cream Lip Stain Liquid Lipstick in 01 Always Red – This lip stain is one of the most comfortable liquid lipsticks I've tried. It dries down to a silky matte texture and is not too dry like a lot of other liquid lipsticks. The color is a beautiful warm red that's not too bright. It's even great for daytime. 
Anastasia Beverly Hills Liquid Lipstick in Pure Hollywood – I initially thought this would be too light for me and although it's a bit lighter than I like, I've been wearing it mixed with a pink lipstick and it looks great. I put on the lipstick first than top it off with this one in the center. The lipstick I've been using with it is just a tiny bit darker pink and I've noticed that, not only does it make this one look better with my skin tone, it helps the lipstick last longer.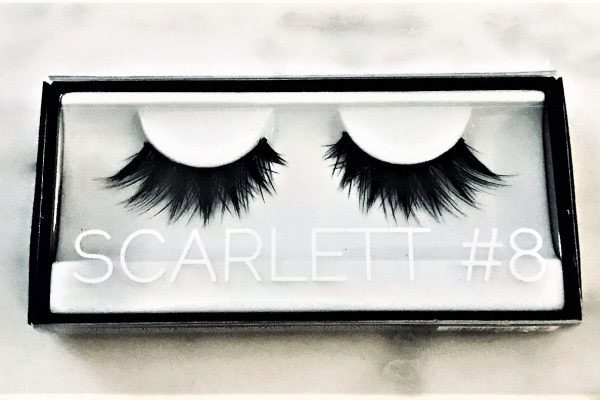 Huda Beauty Classic Lash in Scarlett #8 – These lashes are stunning. Very full and extremely long. They remind me a bit of the House of Lashes Iconic, but even more dramatic. These are definitely night lashes, not something I can pull off during the day. I hadn't tried any Huda lashes before because I find that some of the more expensive lashes tend to have thicker bands that are a bit stiff and can make it difficult for the glue to stick, but these had a very soft, flexible band. I found them easier to work with than other high-end lashes and I'm already looking at more styles to order. 
Here are swatches of the liquid lipsticks and the highlighter.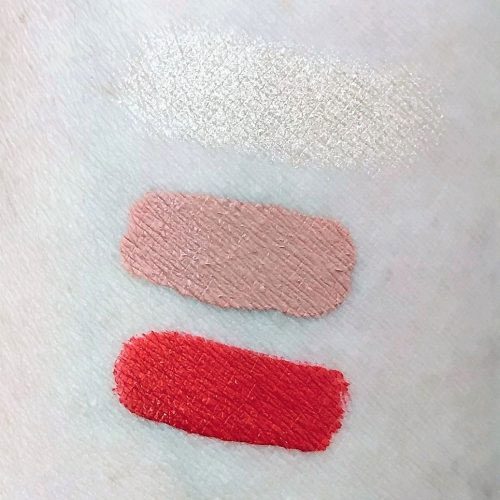 In my opinion, yes, and here's why. You're getting 15 products, including 4 full-size products. At first glance, you'll notice that you can get most of the minis as Sephora point perks. Although I consider these "point perk" items filler products and I wouldn't buy the box for just these items, I actually like them and use them, and like I said earlier, they make great travel products. Now, let's break down the cost. Taking into consideration the $80 price tag, and the fact that you're getting 4 full-size products whose combined cost totals $84.50, then yes, I do consider this box a good deal, but only if you're buying it for the full size products.